Top five Ottawa secrets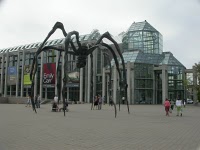 Ottawa is one of those tourist towns with a pretty standard circuit of sites. Visitors tend to come and check the iconic places–the ones that show up on stamps, money and calendars–off their list. Parliament Hill–seen it. Rideau Canal–done it. Big spider at the National Gallery of Canada–check.
But as anyone who lives here knows, there's more to this burg than meets the eye. As a local since 1983, I humbly offer my top five Ottawa secrets.