Year of Geography: Albania
Let's start this quick peek into Albania with some background about this man on a horse.
That's Skanderbeg (or Scanderbeg, depending which reference you're using), a 15th-century military hero. Born George Castriota (again, spellings vary) around 1404 in northern Albania, he was the son of a prince. For years, he was held hostage at the court of Ottoman sultan Murad II. His captors renamed him Iskander, granted him a military command and gave him the title bey. He eventually fled back to Albania, where he used his military knowledge to fight…the Ottomans. Isn't it ironic? It appears even fancy titles don't take the sting out of being a captive.
Back home, his countrymen corrupted Iskander bey as Skanderbeg. He pulled together a group of chieftains to defeat the Ottomans, signing a truce with them in 1461 that later fell apart–as did the group of chieftains. Nonetheless, he remains a national hero in Albania. He even has a Canadian investment company named after him.
But enough about Skanderbeg. My goals with the Year of Geography are to find each country on a map, name its capital and learn three interesting things about it. So here goes.
The map
I now know that Albania lies directly opposite Italy's boot heel. (Scroll down the map–you'll see it.)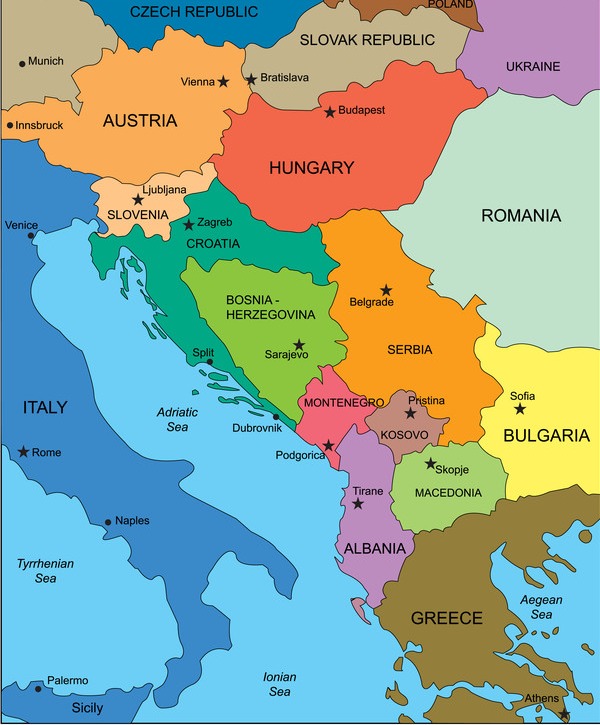 The capital
I already knew Albania's capital was Tirana (also spelled Tirane). Why did I know this? Because I grew up in the suburbs of Toronto, which most locals insist on pronouncing something like "Tarawna." When I first learned of Tirana, I thought it was spelled the same way. Ah, the drawbacks of a Southern Ontario childhood.
Three interesting facts
Skanderbeg counts as one interesting fact (well, I think he's interesting, anyway).
The one thing I thought I knew about Albania was that its most famous modern citizen was Mother Teresa, but I was wrong. Yes, she was ethnically Albanian, but she was actually born and raised in what is now the Republic of Macedonia. That hasn't stopped the Albanian government from petitioning India to send her remains back to Albania, however.
With a bit more digging, I learned that Albania's recent passage to capitalism was particularly brutal. The country was communist for four decades after the Second World War and largely isolated from the rest of the world. When longtime dictator Enver Hoxha died in 1985, his successor failed to keep the communist flag flying; the country was swept up in the general collapse of communism across Eastern Europe in the late 1980s. It became a republic in 1991 and promptly developed a thriving market in Ponzi schemes. At the height of the frenzy, roughly two in three Albanians had invested in them, to the tune of $1.2 billion. When the schemes collapsed, widespread riots erupted, an estimated 2,000 people died, and a UN mission was sent in to quell what became known as the Lottery Uprising. Today, Albania is well on the road to stability. It became a full member of NATO in 2009 and has applied to join the European Union.
And now, a video bonus: what seems to be (from my limited research) one of the best-known video clips in English mentioning Albania. It's Coach from Cheers teaching Sam some basic facts about Albania through song. It's not quite Monty Python's Finland, but you'll never forget which sea Albania borders.

Find out more
CIA World Factbook: A good summary of the nuts and bolts–population, economy and so on.
Robert Elsie's Albania website: This comprehensive but easy-to-read site by an Albanian studies scholar includes sections on Albanian history, language, literature and photography.
Mondo Times: Links to major Albanian newspapers, TV stations, radio stations and magazines. Most are in Albanian, naturally, but there are a few in English.
Photo credits: Map of Albania and surrounding countries from Can Stock Photo, file number csp3113769.