Year of Geography: Algeria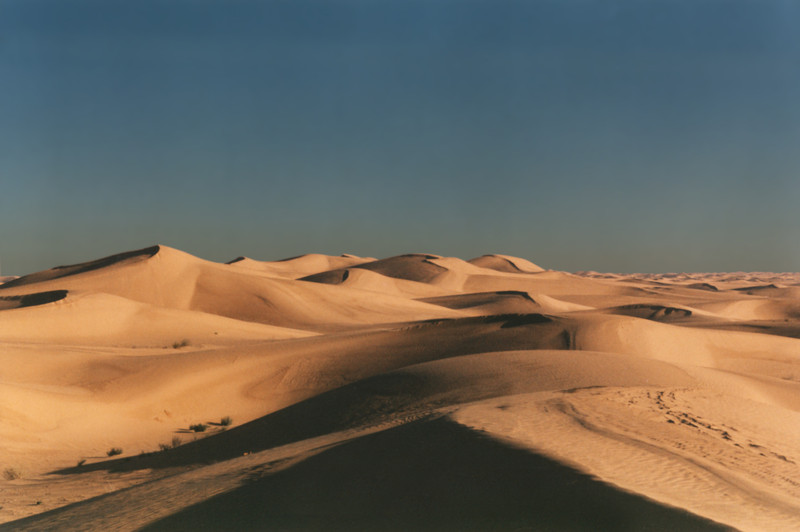 Unfortunately, Algeria is going through a bit of a rough patch this week, as riots have broken out to protest the soaring prices of food staples such as sugar.
However, as I plan to do in the Year of Geography, I'm going to focus less on news and more on history and culture. And when it comes to the culture of Algeria, one of the main things I know about Algeria is its main musical export.
Rai
Rai music evolved in the 1930s as a blend of Bedouin, Arabic, African, French and Spanish musical styles. Originally, it had something of a cabaret flavour and was aimed at urban, working-class fans. In the 1960s, it began to incorporate elements of rock and reggae. Later, it absorbed hip-hop and rap influences. But one thing about it remained relatively constant: it usually really annoyed the authorities.
Successive conservative Algerian governments have attempted to suppress the music, arguing that its sometimes provocative lyrics run counter to Islamic values and that its sometimes political flavour is dangerous to the power of the state. As a result of this repression–which comes and goes, depending on the government of the day–many rai musicians have emigrated to France and other countries where they can work with more freedom. The music remains popular in Algeria, however.
Leading rai stars include Cheb Khaled and Cheb Hasni. ("Cheb," which literally means "young," is a nickname many male rai musicans adopt.) You can check out some of Cheb Khaled's biggest hits on the link below.

If you'd like to listen to or buy some more rai music, please click on the CD link at the end of this post.
And now for something completely different.
St. Augustine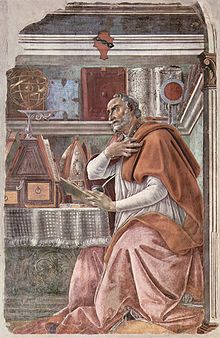 We're nothing if not eclectic here at FacingTheStreet.com, so I'm going to leap from pop music to religious history so that I can mention one of Algeria's most famous historical figures: St. Augustine. Yep, that St. Augustine–the influential theologian who came up with the doctrine of original sin. He was born in what is now Algeria in 354CE, converted to Christianity in 387CE and proceeded to become a major leading light in his adopted faith. Eventually, he became bishop of Hippo Regius, a city now known as Annaba that lies near Algeria's border with Tunisia. (Visitors today can explore the ruins of St. Augustine's Basilica of Peace and the Roman city.)
Algeria's World Cup soccer team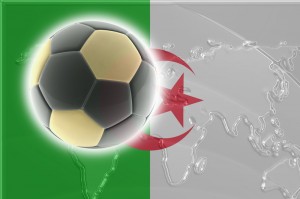 Algeria has had a strong soccer presence for years, but here's a quirky fact about their 2010 World Cup team: many of the players were born and raised in France. Even though Algeria gained its independence from France in 1962, ties between the two countries remain strong. This Newsweek story claims that some players on the Algerian team had to learn the lyrics to the national anthem phonetically.
The map and the capital
I was already pretty sure where Algeria was on the map of Africa, but here's a map for reference. One thing I didn't realize was how huge the country is in comparison to its neighbours.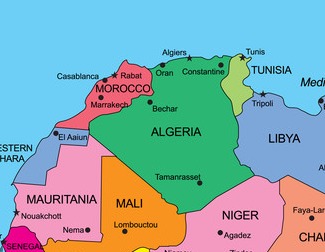 And I definitely already knew the capital was Algiers–that's an easy one to remember. Here's a gorgeous shot of it by Damien Boilley.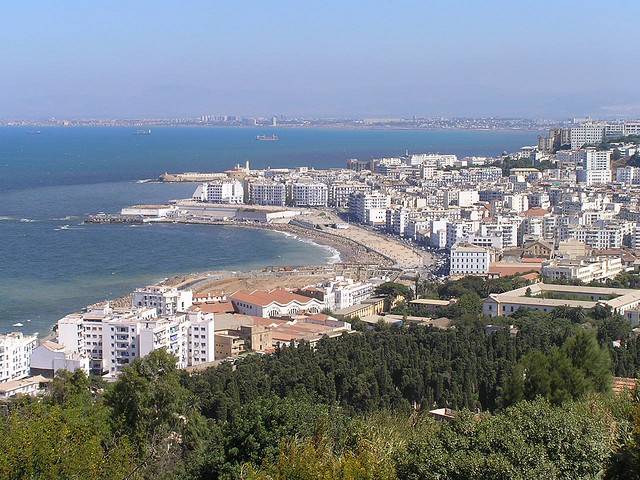 Extras
And finally, a video. Well, actually, it's a slideshow of stills taken along the Saharan highway. It's weirdly hypnotic, mainly because the background music is by Tuareg musician Athmane Bali (the Bali link is in French, as English-language information about him is almost non-existent).
Find out more
Algeria.com: An excellent English-language site that includes information on Algeria's history, music, cuisine and more. (That's where I found the Saharan Highway video.)
Shop


Photo credits: Sahara desert, CanStock Photo, file ID 0018954; flag with soccer ball, CanStock Photo, file ID 3145771; map, CanStock Photo, file ID 3085530; Algiers coast by Damien Boilley from Algiers, posted to Flickr by Damouns under a Creative Commons licence.
Licence for painting of St. Augustine by Sandro Botticelli: The work of art depicted in this image and the reproduction thereof are in the public domain worldwide. The reproduction is part of a collection of reproductions compiled by The Yorck Project. The compilation copyright is held by Zenodot Verlagsgesellschaft mbH and licensed under the GNU Free Documentation License.