24 tips for renting a vacation property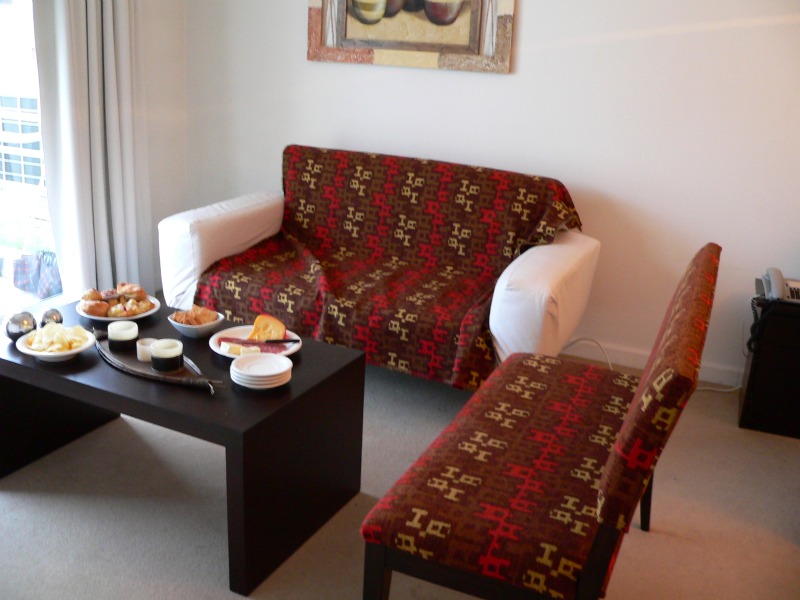 Arranging a short-term rental of an apartment, house or cottage in a residential neighbourhood is one of my favourite ways to "feel like a local." (Above is the apartment we rented for a week in Buenos Aires.) But the prospect can be a bit intimidating. Unlike booking a room at an international chain hotel through its Web site or by phone, renting a place may involve dealing with a small company by e-mail, fax or even snail mail. You might find yourself mailing a deposit cheque to a stranger. Undeniably, renting a place is a slightly riskier proposition than staying in a hotel. But if you keep the following basic tips in mind, you can decrease your risks…and increase your "like a local" quotient!
Find a Place
Think ahead, particularly if you want to rent in a popular locale in high season. Good properties attract loyal fans who rent year after year, and they sell out fast.
Do your homework, or you'll spend hours searching through listings. In a city, pinpoint a couple of neighbourhoods—based on criteria such as safety, liveliness and proximity to attractions. For a resort area, pick several towns or beaches that are family friendly, party hearty—whatever you're looking for.
Ask friends and acquaintances for recommendations.
Make a list of the amenities you can't live without—a washing machine, air conditioning and so on. Try to keep these to a minimum to increase your chances of finding a spot, but be realistic. If your want to spend your holiday sitting next to the water with a book, a spot that's a half-hour walk from the nearest beach will probably make you miserable.
Compare prices. Search within one site or across multiple sites to compare the prices of similar properties. If the place you're keen on costs much more or much less than the competition, try to figure out why. In general, places marketed by a rental agency are usually slightly more expensive than comparable spots you rent directly from the owner, but they often offer more services and amenities, too.
Ask about early-bird or last-minute discounts.
Decide how much and what kind of support you want. Some companies simply connect property owners and travellers, then step back to let the two parties work out a deal. Others serve as rental agents, providing services such as local concierges and English-speaking emergency contacts. Support usually comes at a price but can offer valuable peace of mind.
Ask the rental company if you can contact a previous customer for a testimonial about the company or a particular property.
Ask Questions
The following questions should be at the top of your personal rental FAQ.
When can I cancel? Unlike hotels, many rental properties require substantial advance notice of cancellations if you hope to get a refund—often at least a week, and frequently as long as a month or more. How and when will a refund be provided? Make sure you understand the rules before putting down a deposit.
What's included? Don't assume that standard items in hotel rooms are de rigueur in a rental. Anything from bed linens to dish soap may be your responsibility, and utilities such as central heating, air conditioning and local telephone calls may come at an extra cost. Don't be afraid to ask, and get any promises in writing.
Is there a local contact person? Ideally, there will be someone nearby—the landlord, the rental agent—whom you can call if you have questions or problems. If the local contact doesn't speak your language, find out if there's a secondary contact who does.
How do I get there and get around? A flat on the edge of the city will probably be cheaper than one downtown, but if you have to rent a car, the savings may not be as great as you think. Other things to consider: proximity of mass transit and walking times to local attractions.
Are there services nearby? A grocery store is one of the basics you'll probably want close at hand. If the property lacks a washing machine or Internet access, ask about nearby coin laundries or Internet cafés.
Is the property appropriate for children, pets, smokers or travellers with disabilities? Ask about things such as baby cribs, fenced yards and steep stairs, as well as any restrictions imposed by the property owner. And check whether these considerations could lead to extra fees. For instance, some properties may permit pets but charge an extra cleaning fee for vacuuming up Rover's hair.
How is the property insured? In other words, if something goes wrong, who is liable for what?
Arrange Payment
All right, this section will sound a little scary. Let me preface it by saying that I've rented properties on three continents and never run into a scammer. That being said, there are less-than-reputable people in this business (as in any other), so it makes sense to protect yourself as much as possible when arranging deposits and payment
In a nutshell, avoid giving individuals access to any credit card or bank account with a sizable credit limit, balance or overdraft.
You'll need to be more cautious when dealing directly with individual property owners. Large, well-established rental agencies pose much less of a risk. If in doubt, ask for testimonials or check with the Better Business Bureau.
The information in the list below applies mainly to dealings with individuals and small firms (although it never hurts to be cautious in any international transaction).
Do not send payment via wire services, such as Western Union. They are popular with fraud artists, since payments arrive quickly and are tricky for international police to track.
Give out as little financial information as possible. Be very cautious about giving out your credit card number or sending personal cheques.
If you do pay by credit card, use a card with a low credit limit. Either ask your bank to lower the limit on an existing card you seldom use, or apply for a new one you can use for such transactions. (Beware the latter strategy if you already have several credit cards, however. Carrying multiple cards—even if you rarely use them—can hurt your credit rating.)
If you're paying by credit card online, make sure the site is secure. The address should begin with "https" rather than just "http." In addition, most Web browsers have an icon that shows that information transmitted via a particular site is encrypted—in Internet Explorer, it's a small padlock that appears on the taskbar.
If you do pay by cheque, write it on an account with a small balance. Make sure the account doesn't have a high overdraft limit.
Ask the vendor if you can pay via PayPal, which allows you to transfer funds from your bank account or a credit card without providing account numbers to the vendor. Be forewarned that basic PayPal accounts may only accept payments tied to a bank account. This isn't necessarily a bad thing; it just means the vendor hasn't paid an extra fee to be allowed to accept credit card payments.
Try to negotiate a low deposit, with plans to settle the balance in person. That way, you'll be able to see the property first before paying most of the money. (Many renters are reluctant to do this, for obvious reasons. Go with your gut feeling.)
Never give a rental agency your social insurance number, social security number or equivalent.
Don't necessarily be suspicious if the rental agency wants you to make your final payment in cash. In countries with volatile currencies, asking for cash payment in U.S. dollars is quite common. Just be extremely careful when bringing cash abroad—split the total among the travellers in your party, for instance, and make sure it is well concealed. If you plan to pay in local currency with money you withdraw abroad, check with your bank to make sure your daily withdrawal limit will allow you to get sufficient funds. Then make sure there's an ATM near your rental property that will accept your ATM card, so you don't have to carry a pile of cash all over town. Follow the links to find a Visa/Plus ATM or a MasterCard/Maestro/Cirrus machine.
Rental Companies
Countless companies and individuals rent properties to travellers all over the globe. Prices run the gamut from budget to luxury, so be patient—it may take a little while to find something your snack bracket. Please note that the listings below are not an endorsement, as I haven't personally used all of these companies.
This firm specializes in Buenos Aires apartment rentals. We used it to book our digs in the Palermo neighbourhood, and the service and apartment were both excellent.

This U.K.-based site is aimed primarily at business travellers. It has information on serviced apartments worldwide, with a focus on Europe.
Based in New York City, this firm offers mainly large, luxury properties in the U.K., France, Italy, Portugal, Morocco, Mexico and the Caribbean. Best perk: the villa in Marrakesh comes with its own camel.
CHR offers mainly upscale apartments and homes in four cities: London, Paris, Rome and New York.
Affiliated with Wyndham Worldwide, this New Jersey-based site represents 60,000 properties. North American properties are often condos in vacation resorts; European properties are more likely to be individual villas.
This Texas-based company has been actively acquiring pre-existing rental sites since opening in 2005. It is currently the portal for 11 sites, which collectively list more than 230,000 properties in more than 90 countries. Home Away connects renters directly with property owners.
This Swiss-based company focuses mainly on European rentals. The site aimed at Canadians has a few bugs; if you run into difficulty, try the U.S. site (note that prices there are in U.S. dollars). Middle-class European families on driving holidays are a big part of Interhome's market, so prices are competitive.
This Atlanta firm is a particularly strong presence in the Caribbean, Mexico and other tropical locales. Urban properties are rare. Concierge services are available.
McLaughlin Anderson Luxury Villas
The Virgin Islands are this upscale company's specialty, but the firm also represents properties on several other Caribbean islands. Need staff? The company can find you a maid, masseuse or manicurist.
This site offers apartment rentals across Paris. We rented La Coupole through this company and were delighted.
One of the largest worldwide rental portals, Florida-based Rentalo lists more than 200,000 properties. It matches renters with property owners but does not handle the transaction. As well as rental houses and apartments, it also lists B&Bs, timeshares, motels and other types of accommodation. You can subscribe to a free newsletter, and receive notifications of special offers and new properties in your favourite destinations.
Unusual Villa and Island Rentals
Just like the name says, this Virginia-based company can put you into some unique spots across the Caribbean: think private islands, 12-bedroom villas, private yachts complete with captain. If you have to ask the cost, dahling, you can't afford it.
Wimco is a luxury brand, catering to folks who like perks such as infinity pools, butlers or chefs with their Caribbean, European or Moroccan villa. It's headquartered in Newport, Rhode Island.