From Ottawa to Toronto by train
I'm always blathering on this site about the joys of train travel, but for some reason I've never thought to blog about the train trip I probably take half a dozen times a year: the 4.5- to five-hour trip by VIA Rail from my home in Ottawa to Toronto, where I grew up and my extended family lives. (Well, technically, we're all from the western 'burbs of Brampton, Mississauga and Bolton, but that's probably more detail than you need.)
I'm also a bit behind the times, as I've never posted a full post from my iPhone before. (Yes, all you techies, I can hear you laughing.) I figured this would be the perfect chance to practise.
12:05pm As usual, the lineup for the Toronto train was huge.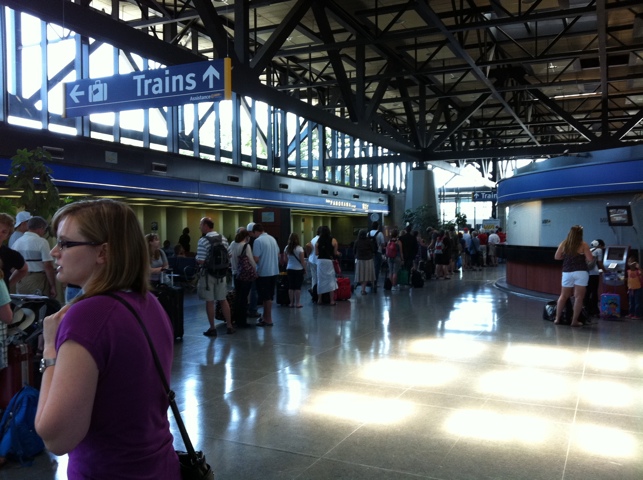 Ottawa's train station is pretty cool, though. Built in the '60s when the rail lines were moved out of downtown, it replaced a grand old station that's now a government conference centre.
Anyway, here we are boarding the train. Hmm, clearly I need to work on my iPhone photo skills.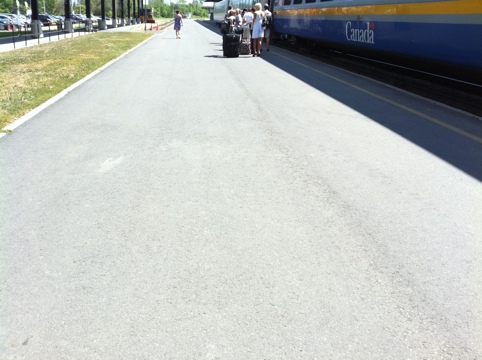 12:45pm And here's the first stop: Fallowfield, in the Ottawa suburb of Barrhaven.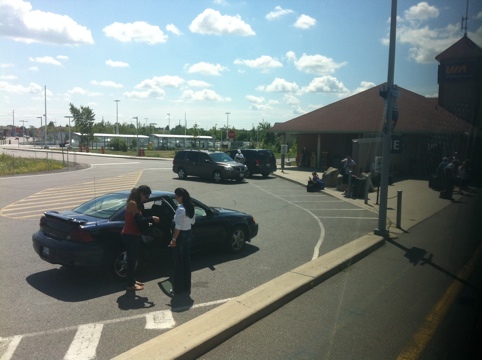 2:15pm We're now almost two hours into the trip, and the train is between Gananoque and Kingston. Farm fields green with corn are unfurling outside the windows.
Inside, the people-watching is fun: a big group of middle-aged train newbies telling jokes, a woman with an impossibly tiny sleeping baby, and a Paris Hilton lookalike in sky-high purple stilettos.
The VIA Rail veterans are armed with the usual gear: iPads, headphones, laptops and takeout food. (VIA, for all its virtues, is not famed for its chow in economy, which consists mainly of stale sandwiches. The food in first class is excellent, but I was too cheap to shell out on this trip.)
2:30pm Soon, we should be able to see Lake Ontario. Unfortunately, it will be on the other side of the train, so no photos today.
Regarding visuals, I've learned two useful things today: VIA's wi-fi isn't strong enough to upload video (fair enough; it's free and shared); and the iPhone takes lousy shots through train windows (or perhaps I shouldn't blame the equipment).
4:20pm We're almost in Oshawa now–the edge of the eastern Toronto suburbs. Here's a fuzzy shot of the Oshawa station.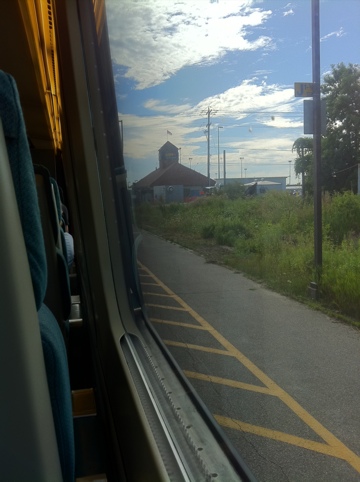 5:15pm. Arrival in Toronto. One of the drawbacks of a heritage building like Union Station is that the few escalators sometimes break down, resulting in platform scenes like this.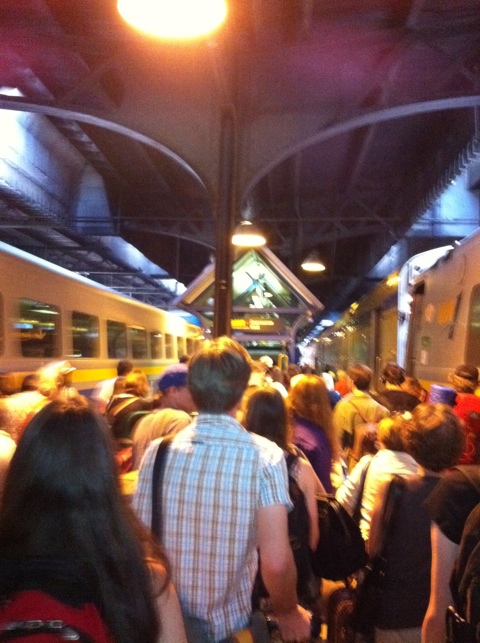 But the plus of arriving in a heritage building like Union Station is a glorious rotunda like this.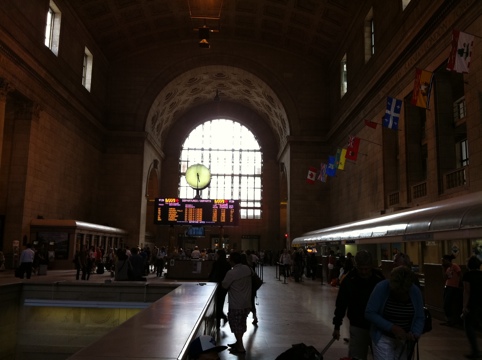 As I made a quick foray out of the station to find a bank machine before catching the commuter GO Train to Brampton, I ran into a good friend in the revolving door of the bank building–proving once again that Toronto isn't the cold and daunting metropolis it's often painted to be.
So that's it for my trip. Hope you enjoyed tagging along on my iPhone blogging learning curve!