Year of Geography: Austria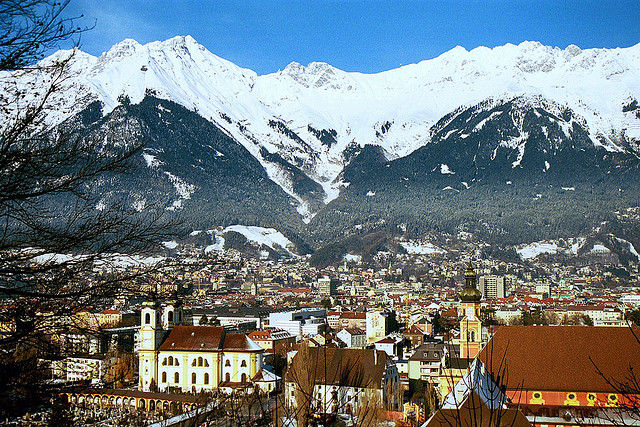 There is much more to Austria than The Sound of Music, lovely as it is. (Yes, I'm such a sap that I can pretty much recite all the dialogue from that movie with the sound off.)
This is the country that gave us Mozart and sachertorte and the Vienna Boys' Choir, after all.
I did already know that the capital is Vienna. And here is Austria on a map.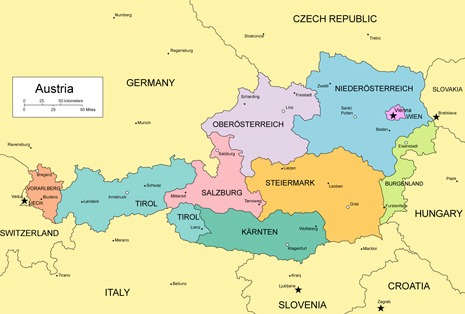 Here are three things I didn't know about Austria before I started this post.
PEZ
Who knew that the name "PEZ" comes from the German word for peppermint, "PfeffErminZ"? (That was the first PEZ flavour, apparently.) A Vienna confectioner invented the brick-shaped candy in 1927; the treat came to the U.S. in 1952. The iconic PEZ dispensers were lighter shaped because the mints were marketed as a distraction for smokers.
Other products you may not know are Austrian: Swarovkski crystal and Red Bull.
Alpunk
Alpunk or "alpine punk" music meshes two things most of us probably never thought of combining: accordion-based folk music and punk. It's found across the German-speaking areas of the Alps, including Austria. Truly, you have to hear this music to believe it. In its later incarnations, it seems to have moved away from its Sex Pistols-era roots to encompass everything from rockabilly to hip-hop. For instance, check out the iTunes clip of "Shakin My Brain," from the 2011 album Flux by Attwenger, a two-man band from Linz. It starts off sounding like Elvis as orchestrated by Lawrence Welk, and then weirdly morphs into a cover of Bill Withers' "Ain't No Sunshine." Don't look for it on heavy rotation on MTV any time soon.
Take that, France!
If asked to name a quintessentially French food, many people would settle on the croissant. But–depending whom you believe, as food history is notoriously rife with urban legends–the flaky pastry may have originated 1,000 kilometres from Paris. It appears that bakers in Vienna have been making small, crescent-shaped cookies called kipferl since the 1200s. Some stories date their invention to the invasion of either Budapest or Vienna by the Turks in the 1680s, but many historians doubt the truth of that tale. (For a nice summary of the murky history, see foodtimeline.org.) One thing most people agree on was that an Austrian baker named August Zang popularized a puff-pastry version of the treat in his Paris bakery, the Boulangerie Viennoise, in the 1830s.
And a video
This promotional video from the Austrian Tourist Office gives you a two-minute glimpse into Graz, Innsbruck and Salzburg–with no singing nuns to be found.

Shop
Want to read about Austria? Here are two suggestions.
DK Eyewitness Travel Guide: Austria. Part of a series of gorgeously illustrated guidebooks.
Fin-De-Siecle Vienna: Politics and Culture by Carl E. Schorske. Written in 1980, this Pulitzer winner focuses on Austria's capital in the tumultuous years at the end of the 1800s and the beginning of the 1900s. Politically, Vienna was a mess, but otherwise it was amazing. The Secessionist art movement had people buzzing about obscenity, as did the new field of psychoanalysis. Any city where Freud and Klimt might have bumped shoulders has to have been an interesting spot.
If any of these books interest you, please buy them from Facing the Street's Amazon shop (see also the buttons below) and help support this site. Thanks!


Photo credits: The picture of Innsbruck at the top of the post is by Leo-setä (Flickr/Creative Commons); the map is from FreeUSandWorldMaps.com; the PEZ dispenser photo is by puuikibeach (Flickr/Creative Commons); the Attwenger photo is by Claus Rebler (Flickr/Creative Commons); and the croissant photo is by Kathryn in stereo (Flickr/Creative Commons).