Book review: Female Nomad and Friends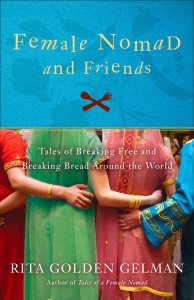 A book that combines two of my favourite things: travel and recipes! How could I resist?
I've been eager to read Female Nomad and Friends: Tales of Breaking Free and Breaking Bread Around the World since it came out in 2010. But, with one thing and another, I just got around to it now. And I'm glad I did.
It's the follow-up volume to author Rita Golden Gelman's charming 2001 travel book, Tales of a Female Nomad. Along with further short pieces about her journeys (she's been on the road almost constantly since 1986), she has collected tales from 41 writers, mainly women. She asked the authors to focus on taking a leap of faith and bridging gaps between cultures. Most, but not all, of the stories involve food. A few don't even involve travel. Idiosyncratic as always, Gelman freely admits in the introduction that she and her co-author/editor, Maria Altobelli, broke their self-imposed rules without guilt. "Occasionally we found a story we liked that wasn't even close to the themes of connecting and risk-taking, but if it made us laugh or cry or feel good, we slipped it in."
Fair enough. It's their book, after all. The stories touch on everything from language to love affairs. Some, like Karen van der Zee's tale of eating warthog and trying to eat mopane worms in Zimbabwe, are not for the faint of stomach. (Don't even get me started on her entertaining story of eating cow feet soup chased with straight vodka at 10am in Armenia.)
Quite a few stories are humorous. Bobbi Zehner's confessions of her culinary incompetence had me howling, partly because she and I have both managed to cook a turkey with the bag of giblets still inside. I also empathized with Michael Worthen's desperate attempts to speak French, to the increasing amusement of a group of French postal employees.
Heartwarming tales of strangers opening their hearts to other strangers abound. Two hippies chow down on goat in a dusty diner in 1970s Mexico; a French family introduces a lonely American teacher to the pleasures of the table by preparing a lavish meal and giving her a book filled with the handwritten recipes; a grocery store employee brings an elderly lady an ice cream bar on a sweltering day.
Several stories are sad or bittersweet, such as Jean Allen's richly textured piece about an ultimately doomed affair in Nassau. And Altobelli's lovely story about a Puerto Rican-American man giving his mother a spoonful of cajeta on her deathbed haunted me.
The book includes 33 recipes, ranging from fried chicken and baked beans to ceviche and dolmades.They've all been tested, and most include variations and helpful side notes.
I think some of the recipes sounded even tastier due to the story that preceded them. I'm dying to try a recipe for tuna pie after reading Victoria Allman's story of a harrowing two-hour trip by Wave Runner through stormy seas in the Solomon Islands to reach the lodge where it was served.
There are a few small editing glitches, probably inevitable in a book of this scope with so many authors. For instance, the bio note for Allen's story includes details about people not actually mentioned in her piece. An otherwise nice tale about a café popular with Guatemalan expats never says where the café is; it has the feel of a much-longer story that was perhaps chopped a bit too much. And several of the authors try a bit too hard to be profound or uplifting, to somewhat awkward effect. But, truly, these are minor quibbles.
What ties the book together and makes it work is the sheer zest for life that runs through every piece. These are people eager to encounter the world on their own terms, even if they're somewhat nervous at first. Critically, as the reader's guide at the end of the book attests, "Probably the most common theme in the book is the concept of trust." As a result, a sunny optimism runs through most of the tales.
Several of the authors take risks that had alarm bells clanging in my head–a disturbing number eagerly climb into cars with utter strangers–yet everything seems to work out. (This thread is probably influenced by Gelman's own experience; read her first book and you'll be blown away by her utter fearlessness.) Even when all is not as rosy as a tourist brochure–one writer gets dysentery in Fiji, for example–the authors all seem to agree that the benefits of their trips outweighed the drawbacks.
Still looking for a reason to buy the book? The authors and editors are donating all the proceeds to a fund that covers tuition fees for promising New Delhi students.
Put this book on your bedside table–along with the snack you'll inevitably crave before you can sleep.
P.S.: If you'd like to buy this book, please click on the link below or go to the Facing the Street online Amazon bookstore. These purchases help support this website. Thanks!