Book review: Turning Tuscan by Sam Hilt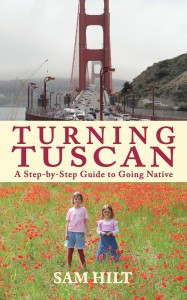 Ever wish you could chuck the rat race and move to a hill village in Italy? Sure you do. We all do.
Corporate trainer Sam Hilt actually did it. And his book about the experience–Turning Tuscan: A Step-by-Step Guide to Going Native–is a well-told, engaging tale.
It begins, as these memoirs often do, with a bit of back story–in this case, Hilt's childhood in Newark, New Jersey; his college year in Europe in the late 1960s; his stints as a counter-culture homesteader in California, an academic and a computer consultant. He provides just enough detail for context, with a wry, self-deprecating wit that makes you glad this guy makes it to his dream life in Italy.
Hilt and his wife Pam drift into their Italian adventure gradually. They begin by renting an apartment each summer, studying Italian under a chestnut tree in the village square with two bachelor twins. Then they buy an apartment that sounds straight out of House Hunters International, with beamed ceilings and a master bedroom built into a 16th-century tower. (The hilarious bureaucracy involved in buying Italian real estate merits its own chapter.) A friend at a U.S. theological school asks them to arrange a tour of Tuscany, which they guide with their first newborn in tow. Then the dot-com crash happens, the tour business evolves, and the next thing they know, they are living in Italy full time.
The book weaves in details of Italian history, art (Hilt's academic specialty), food and culture, along with many stories of the people Hilt grows to know and love in his adopted village. We see his daughters participate in the Epiphany play, sympathize with his tribulations with his car insurance company, laugh with him as he watches a Woody Allen movie dubbed in Italian. The red tape involved in signing his kids up for summer camp is "like being trapped in a skit co-written by Kafka and John Belushi." Even his hospital stay (for a heart condition) provides entertaining insights on the differences–cheering and frustrating–between Italy and America.
He doesn't see his new world through rose-coloured glasses. As he points out, the better he understands the language, the better he comes to understand the place. Newspapers are filled with stories of murder and scandal, just as they are anywhere. "It's not all wine and cheese on sunlit verandas," is how he puts it.
However, Hilt's overarching theme–the core of his love for Italy, I think–is that Tuscan villagers are still tied to each other, their land and their history in ways many North Americans are not. He admires their communal outlook, in contrast to American individualism.
"Instead of seeing them as sheep or cattle, I prefer to imagine the Tuscans as a flock of birds. Though they might fly off occasionally on their own, they usually stay close and take comfort in one another's presence. They enjoy the feeling of being connected, of facing the world in a shared stance, of having a safety net of community to catch them should they fall."
Hilt published the book through his company, Tuscany Tours. Normally, I approach self-published books with a bit of trepidation. While I've read some excellent ones, others have been riddled with typos, factual mistakes and bad writing. However, Hilt manages to dodge most of the potholes many self-published authors tumble into. Sure, there are some mistakes ("pigeon-Italian" and actress "Diana Lane"), but they are neither numerous nor overly distracting; frankly, I've seen more howlers in books published by mainstream houses.
Overall, the success of a book like this very much depends on readers' empathy with the writer. If you like his or her voice and world view, you'll like the book. I was charmed by Hilt's openness to new experiences, his wide-ranging knowledge and his sense of humour, so Turning Tuscan held my interest from beginning to end.
Disclaimer: Sam Hilt provided a free copy of the book for review.