App review: Spotted by Locals Barcelona
Lots of apps, companies, books and websites (including this one!) claim to point travellers to places a bit off the beaten path. Some are merely compilations of widely known information with a few quirky suggestions thrown in. But Spotted by Locals—at least, its Barcelona iPhone app, which I recently test drove—is the real deal.
I was in Barcelona for a workshop, so I only really had the evenings and one Saturday to explore a huge and fascinating city. I wanted to hit the top spots, of course. After all, it's probably illegal to visit Barcelona for the first time and not stroll down La Rambla or wander through La Sagrada Familia. But in the scant time I had available, I also wanted to discover at least a couple of spots that weren't clogged with people shouting, "How much is that in dollars?" Spotted by Locals succeeded admirably.
It's a quick-loading app that you don't have to be online to use, which was a godsend, seeing as I'd burned through a good chunk of my international data plan partway through the trip.
Each of the company's guides to 56 European and North American cities is divided into 10 categories: arts and culture, bars, cinema, coffee and tea, music, relaxing, restaurants, shopping, snacks and theatres. You can browse through the listings and mark any that pique your interest as favourites, making them easier to find again later. If you do happen to be online and you're wandering the city, you can click a button marked "nearby" for a list of spots near you. There are basic offline maps, and if you're online, you can get detailed directions from point A to point B.
Because I was getting around largely on transit, it would have been handy to have the nearest Metro stop included in each listing. However, I could usually figure that out with the basic offline map and a paper map I bought at the tourist bureau.
So, were the listings good? Absolutely. I tried a number of them and enjoyed them all. In fact, by the end of the trip, I almost felt I knew a few of the app's "spotters," as their likes, dislikes and personalities really shone through in both their choices of spots and the way they wrote about them.
On a dusty, hot Saturday, I  walked what seemed like miles through the crowded Barrio Gotic.
Fighting through the crowds had made me a bit parched. Fortunately, spotter Ilse de Ridder pointed me to the courtyard bar of the boho Antic Theatre. Even though it is just half a block from the much-photographed Palau Música Catalana, a huge and ornate concert hall, I never would have spotted it on my own. Not only is it located off a tiny, narrow street, it is behind a door and up a set of stairs.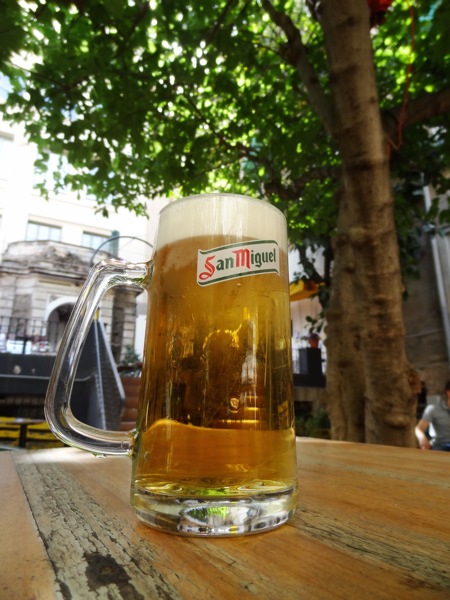 Even when I got there, I wasn't sure it was open; the enclosed courtyard was pretty much deserted and no one seemed inclined to bring me the nice, cold beer I was craving. But then I double-checked Ilse's listing and saw that (a) the bar only opens at 4pm (I got there about 3:55) and (b) you have to order at the bar indoors. Once I got all that sorted out, I settled under a tree with my two-euro brew and was happy as a clam. By 4:30, the place was hopping.
Earlier that day, the app pointed me to another find: the offbeat Frederic Marès Museum. Again, it's right there in plain sight, just behind the cathedral, but I'd have walked right by it without a tip from spotter Bill Sinclair, who admits "I still can't decide whether I love it or hate it." Like him, I found the endless displays of old pots and lack of explanatory signs a bit frustrating. But, based on his tip, I persevered to the rooms displaying the endless collections of everyday artifacts that Marès—one of those rich collectors who might have been called a pack rat or a hoarder, had he been poorer—amassed.
There are cases and cases of everything from binoculars and playing cards to walking sticks and purses, and it was a very pleasant place to wander for an hour, imagining bourgeois life in the early 1900s. Bill also recommended the courtyard café, which served up a pleasant grilled ham-and-cheese sandwich and a cold glass of lemonade at a very reasonable price, with a lovely view of the cathedral.
I had good luck with a few other Spotted by Locals recommendations, and if I had had longer in the city, there were so many more I would have liked to try, including picnic spots, jewellery stores and a place serving free (!) tapas. But even in my limited time, I found it very handy and well worth the US$3.99 sticker price.
Disclaimer: I received a free review copy of the app from Spotted by Locals.