Year of Geography: Australia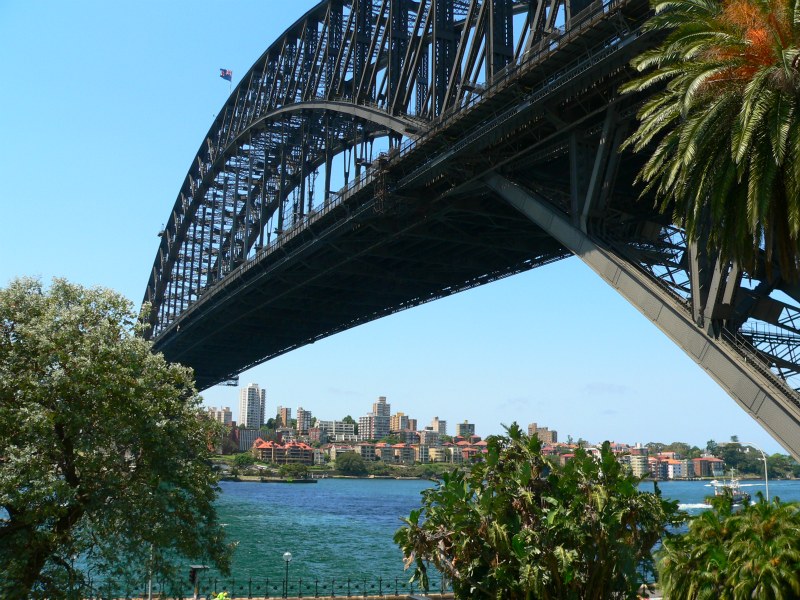 Australia, Australia, Australia, we love you, amen! Truer words were never spoken by Monty Python.
After all, who doesn't love Australia? Boundless sunshine, fun locals, oddball wildlife and a lexicon based on the principle that it's a waste of breath to say lots of syllables when just two will do. (From a friend in Oz I've picked up the very useful "digi" for "digital camera.") I love the place so much I'm going back for my second trip later this year.
It's been a while since I've done a Year of Geography post (I suspect this may turn into the Two Years of Geography, but that's not as catchy a title). So just to remind you of the premise: by the time I've finished writing each post, I have to know the country's capital, be able to find the country on a map, and know three new things about the place.
I already know that the capital is Canberra. And I do know how to find Australia on a map. (Hey, if I didn't, I'd pretty much have to give up any pretense of being a travel writer.) But here's a map anyway, just because.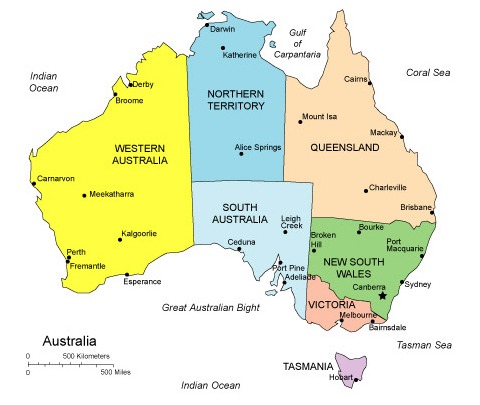 And here are my three new bits of knowledge.
City dwellers
So what have I learned recently about Australia? Well, for one, it's the fourth-most urbanized country in the world, according to a  special report on Australia in The Economist. That surprised me; so much of the country's popular image is based on photos of the Outback, the Great Barrier Reef and Uluru (Ayers Rock). But then I remembered landscapes I saw when I visited in 2007, like this view of Melbourne snapped from a hot-air balloon, and it didn't seem so odd.
If stuff like urbanization stats are your thing, check out this three-minute video about Australia's economy from, again, The Economist.
OK, enough policy-wonkery. On to more interesting things: wombats!
Wombats
After my balloon ride, I walked through a Melbourne park where multiple signs warned me not to feed the wombats. I didn't want to feed one. I just wanted to see one. I mean, "wombat" has to be the best animal name ever: it sounds like a cute insult a teenager would throw at her BFF in a hormone-fueled rage. ("I never want to see you again, you rotten wombat!")
It turns out that wombats are largely nocturnal, which would explain their absence at 9am. And, further, it's probably just as well I didn't run into one of these deceptively cuddly looking marsupials. They're not the smallish, live plush toys I'd imagined; the biggest ones can clock in at about 35 kg (77 pounds) and they can knock a full-grown human over if they feel like it–which they rarely do, fortunately. Don't believe me? Check out this article about one wombat gone wild.
And here's another thing I bet you didn't know about wombats: their pouches face backwards. That way, when they're digging in the dirt, they don't fling bits of soil in Junior's face. Evolution rocks.
All kidding aside, wombats are under threat. The Wildlife Preservation Society of Australia (WPSA) believes that two of the three wombat species are critically endangered, due to a combination of mange (a disease introduced to Australia by humans), drought and habitat reduction. Find out more and, if you like, donate to the cause on the WPSA's wombat project website.
triple j

Yeah, Aussies are super-cool: the public broadcaster, the Australian Broadcasting Corporation, has been running a youth-oriented radio network since 1975. triple j has changed names over the years and has expanded into TV and print. But it still focuses on Australian acts and new music, and you can stream it live online. And unlike public radio stations elsewhere that chirpily claim to be aimed at everyone (yes, I'm talking about you, CBC), this one makes no bones about its fondness for the 18 to 30 crowd. As they say on their website, "triple j is for young Australians. We're not so interested in the rest." Fair enough.
Shop
Want to read up on Australia? Here are a few suggestions.
Cloudstreet by TimWinton topped a 2003 ABC poll of Aussies' favourite books. The 1991 novel tells the story of two families who share a house in a Perth suburb from the early 1940s until the early 1960s.
Pants on Fire by Maggie Alderson. Alderson, a British emigrant to Australia, neatly captures Sydney's fashion and journalism scenes in this fun beach book. Think Marian Keyes with palm trees.
In a Sunburned Country by Bill Bryson. Bryson's flippant, funny travel writing isn't to everyone's taste, but if you like it (as I do) you'll enjoy this romp around Oz.
If any of them interest you, please buy them from Facing the Street's Amazon shop (see also the buttons below) and help support this site. Thanks!



Photo credits: I took the photo of Sydney's Harbour Bridge; the map of Australia is from FreeUSandWorldMaps.com; the balloon photo is courtesy of Global Ballooning Melbourne; and the Flickr/Creative Commons photo of the wombat is by TheGirlsNY.