Navajo tacos at Cameron Trading Post in Arizona
Always set for adventure, my husband Paul and I drove five hours from Las Vegas to Flagstaff, Arizona, with a vague plan for getting to the Grand Canyon the next day. We figured it wouldn't be hard to get directions and we were right: the cheery clerk at the front desk at the Fairfield Inn Flagstaff was eager to point us in the right direction.
Not only did she give us directions to an incredible volcanic site and some breathtaking archeological ruins (more on those in a future post), she urged us to stop at the Cameron Trading Post in the small crossroads of Cameron, Arizona. The trading post was founded in the 1910s and is now largely staffed by Native Americans. As well as a huge gift shop, it's home to a busy restaurant.
"You have to try the Navajo tacos," the hotel clerk explained.
We'd never heard of Navajo tacos, but I'd had fry bread on a previous trip to Arizona. Once I heard these tacos were a mash-up of fry bread and Mexican flavours, I was keen. And by the time we arrived in Cameron after a morning of hiking through lava fields and ruins in 40C heat, I was starving.
Fortunately, Paul suggested that we try the mini versions of the restaurant's signature dish. We could always have dessert if we were still hungry, he reasoned. Smart man. Here's what the MINI version of our lunch–a disk of fry bread piled with lettuce, beans, chiles, cheese and tomatoes–looked like.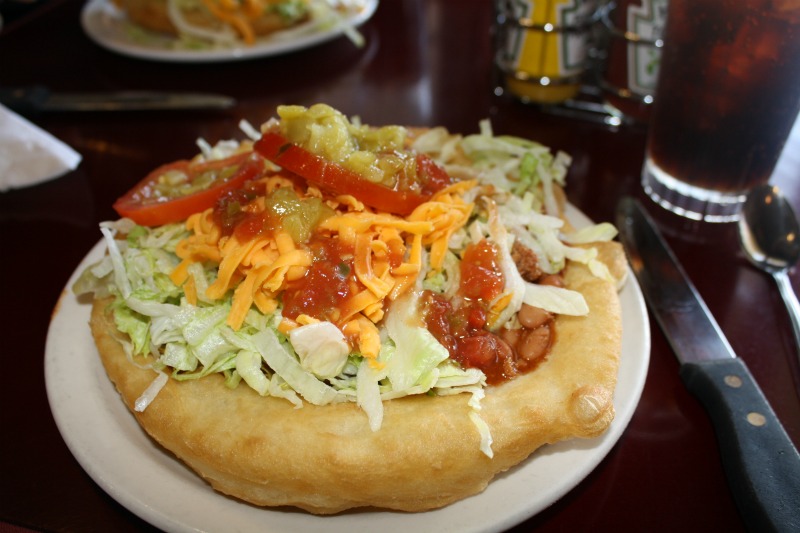 It was certainly tasty–the puffy, greasy fry bread was the perfect complement to the mildly spiced toppings–but I couldn't even finish it. Thank goodness for the morning of hiking.
Fry bread actually has a sobering history, as it was made from the meagre rations the U.S. government provided to Navajo and other Native American groups after forcing them from their lands in the 19th century. Read Jen Miller's excellent Smithsonian Magazine article on fry bread for the whole story.
Note: This post is part of WanderFood Wednesday–click on the link to read about more foodie travels around the world.